Rustic Wedding Invitation with Mailing box, Burlap Envelope & Label Addressing
Rustic Wedding Invitation with Mailing Box, Burlap Envelope & Label Addressing
We recently personalized this box wedding invitation with rustic burlap inner envelope including the label guest addressing and return address printed on the icing label for our bride and groom. The invitation set is from Carlson Craft Simple but Elegant Album.
Rustic Wedding Invitation with Mailing Box & Burlap Inner Envelope: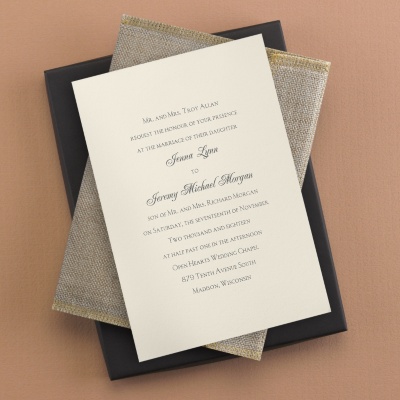 The box we used is the blank box set from Carlson Craft's Simple But Elegant Line. It includes the tissue wrap, blank icing (label on top of the box) and the box. The blank box price is: $190.00 for a quantity of 100 invitation boxes. The price for invitation with envelopes is $380.00 for a quantity of 100 and $527.50 for invitations with the box. You can see more on our Carlson Craft link on our website.
 Envelope Addressing for Wedding Invitation box icing (labels):
The above box invitation addressing includes both guest name addressing and the return address printed with digital calligraphy. The price for both guest name and return address printed on the box icing (labels) is $1.50 for black ink. The font style illustrated above is Edwardian Script and Felix Font Styles. Please note mailing these boxed wedding invitations requires extra postage and hand canceling as seen above. Please call, email or come in to Hyegraph for custom quotes and personalization!